Lamb, Peppers & Chilli Pizza
Is there anything better than perfect pizza? The delicious seasoning of peppers and hot chilli with juicy lamb meat. This recipe is sure to be a best seller. Try it today!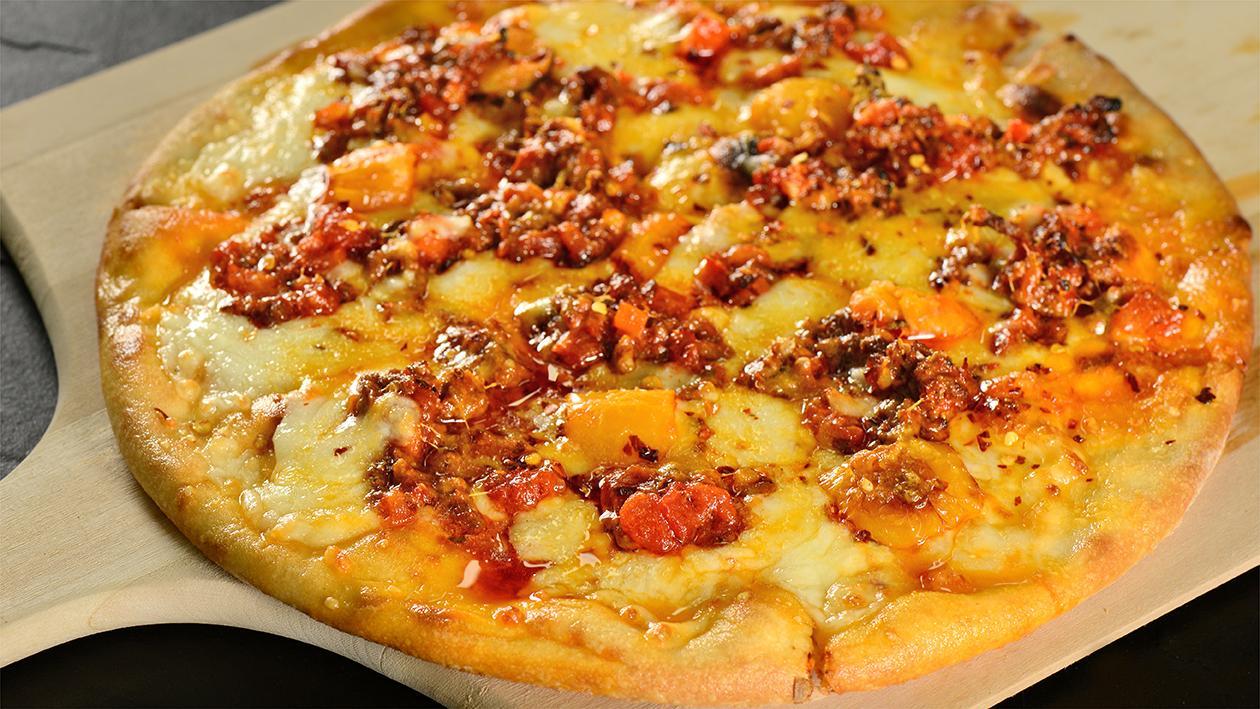 Ingredients
Making the Dough;
For Filling:
Ginger and garlic, paste

100 g

Black pepper crushed

20 g
For Baking:
Mozzarella cheese, shredded

400 g

Cheddar cheese, grated

400 g
Preparation
Making the Dough;

Combine the flour, salt, and yeast in a bowl. Stir to combine. Add just enough water to make the mixture form a ball of dough with no dry flour left on the bottom of the bowl.
Knead the dough by rolling it backwards and forwards, using your hands to stretch, pull and push the dough. Keep kneading for 10 minutes, or until you have a smooth, springy, soft dough.
Place the dough in a lightly greased bowl, cover with cling film and leave in a warm place to prove for 45 minutes, or until doubled in size.
Divide the dough into equal balls.
Flour each dough ball, then cover with cling film, and leave to rest for about 15 minutes – this will make them easier to roll it thinly.
Dust a clean surface and the dough with a little flour and roll it out into a rough circle, about ½cm thick.

For Filling:

Sauté onions and lamb mince with garlic ginger paste. Season with black pepper and salt. Cook until crispy but not dry.

For Baking:

Spread the Knorr Italian Tomato Base over the surface of the dough with the back of a spoon.
Now put minced mixer over top p. Finally, add the shredded cheese. Bake the pizza in the fully preheated 220°C oven for 12-15 minutes or until the crust is golden brown. Sprinkle some crushedchilli if desired.