The flavour combination of a meaty bolognaise sauce followed by a burst of tree cheese filled tortellinis is magical. Two classic italian elements coming together to produce a top selling dish. Add this one to your menu today! We recommend it for the kids menu too.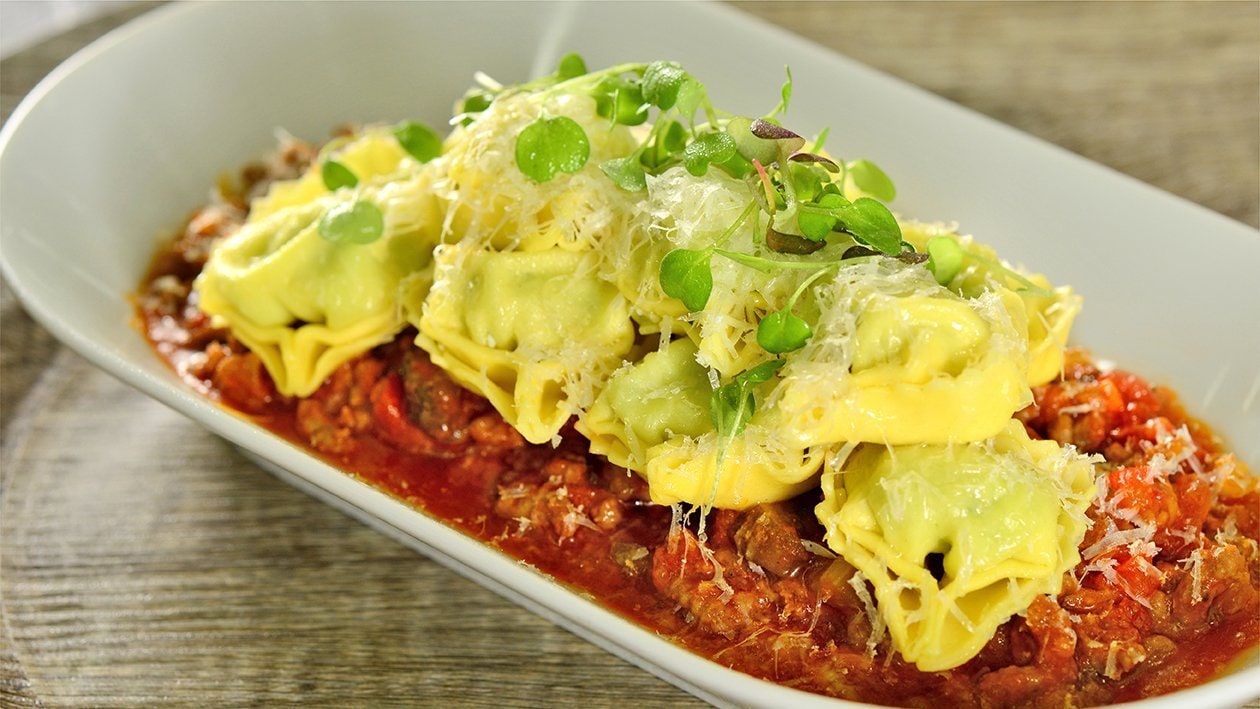 Ingredients
Roll Out the Pasta into Sheets:
All-purpose flour for dusting

100.0 g
Making the Sauce:
Mushrooms brown, finely chopped

180.0 g

Mozzarella cheese, shredded

350.0 g

Parmesan cheese, grated

100.0 g

Crumbled feta cheese

100.0 g
Preparation
Roll Out the Pasta into Sheets:

Divide the pasta dough into quarters. Work with one piece at a time and keep the other pieces covered.
Run the dough through a pasta roller on progressively thinner settings until you have a sheet of paper-thin pasta. (Setting #6 on a Kitchen Aide pasta roller attachment).

Shaping Round Tortellini:

Cut the sheet into rounds using a 3" round cutter, spacing the rounds as close together as possible. Gather the scraps into a ball and put them with the remaining pieces of dough to re-roll later.
Place 1 teaspoon of filling in the middle of each round of pasta.
Dip your finger in the bowl of water and run it along the edge of the round to moisten. Fold the dough over to form a half moon, then draw the two corners together to form a rounded bonnet-shape. Press tightly to seal.
Toss with flour, set aside on well-floured baking sheet, and cover. Repeat with remaining pieces of dough, re-rolling the scraps.

Making the Sauce:

Heat olive oil in a large pot over medium high heat. Add meat and season with Knorr Professional Chicken Stock Powder. Add onions, garlic, celery, capsicum and carrots and cook until meat is browned.
Add mushrooms and continue to cook for 5 minutes, stirring occasionally.
Stir in Knorr Professional Italian Tomato Base. Simmer gently uncovered for 10 minutes, stirring occasionally. Adding a little additional stock made with Knorr Professional Chicken Stock Powder if needed.
Garnish with fresh basil & parmesan cheese.