Designed for professional chefs, check out this Beef Stew with Cheddar Corn Dumplings recipe: cooking instructions broken into components, full list of professional ingredients, chefs' preparation secrets. Master this recipe with products like: Rafhan Corn Oil, Knorr Professional Demi Glace Base and Knorr Professional Chicken Stock Powder.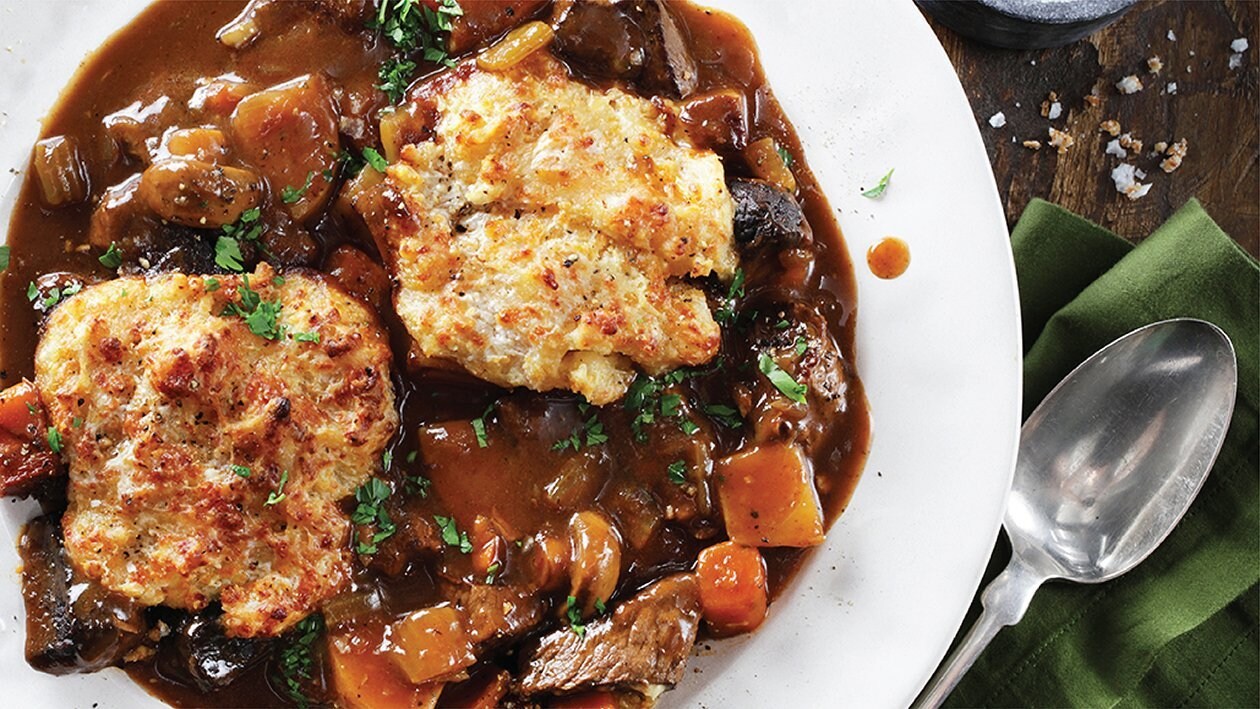 Ingredients
Beef Stew:
Beef stew meat, cut into 1 inch pieces

1.2 kg

Carrot, cubes cutting

200.0 g

Garlic, fresh, chopped

50.0 g

Worcestershire Sauce

15.0 ml
Cheddar Dumplings:
All-purpose flour

200.0 g

Cheddar cheese, shredded

200.0 g

Veggie butter (shortening)

100.0 g

Parsley, finely chopped

20.0 g
Preparation
Beef Stew:

In a saucepan, add Rafhan Corn Oil over medium heat and fry the beef cubes until browned on all sides. Remove the beef cubes from the pan and set aside.
In the same pan, fry the onion, celery, and carrots until soft and fragrant, adding a little oil if necessary.
Add garlic and fry for another 30 seconds. Stir in the tomato paste.

Add Knorr Professional Demi Glace Base and water, Knorr Professional Chicken Stock Powder, tomato paste and Worcestershire sauce and allow to come to a simmer and stir with a wooden spoon.
Add the beef cubes back to the pot then add bay leaves, cinnamon stick and thyme.

Reduce to a simmer and cover, simmer for 1 ½ hours. Add the potatoes and simmer for another ½ an hour or until the vegetables are tender.
Remove the bay leaves and thyme branches. If the stew is still thin just add a little bit of Knorr Professional Demi Glace Base, stirring occasionally, simmer for another 10 minutes.


Cheddar Dumplings:

Stir together all-purpose flour and garlic powder in a medium bowl. Cut in the shortening until the mixture resembles coarse crumbs. Stir in the cheddar cheese, then add the milk and stir until the dry ingredients are moistened.
Make small balls with the dough and place them on top of the stew, leaving them room to expand – they grow a lot as they cook. Place the stew in the oven uncovered and bake until the dumplings are browned and cooked through, about 30 to 40 minutes.
Garnish the stew with parsley and serve.