Asian fusion dishes are wildly popular these days. Sesame Chicken with Ginger Rice Pilaf is a Chinese inspired stir-fry dish which consists of broccoli, chicken and mushrooms along with a few twists like pomegranate seeds and juice. The sauce is potent and spicy with a tinge of sweet making sure this dish excites all the senses. View the full recipe below.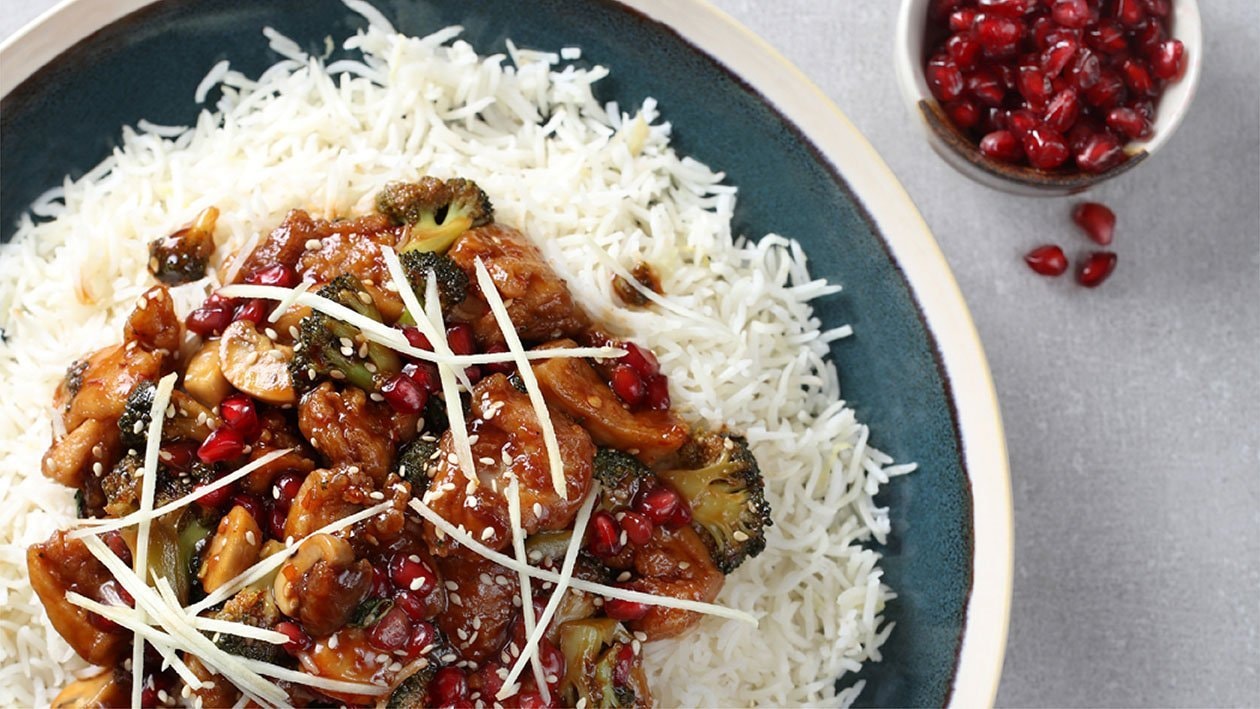 Ingredients
Preparing the Chicken:
Chicken breast, cubes

3.0 kg
Rice Preparation:
Basmati rice, washed

2.0 kg

Garlic, fresh, chopped

30.0 g
The Sauce:
Pomegranate, juice

100.0 ml
Finishing off the Dish:
Fresh mushrooms, sliced

700.0 g

Pomegranate seeds

300.0 g

Sesame seeds, toasted

150.0 g
Preparation
Preparing the Chicken:

Slice the chicken into bite size cubes and marinate with a little sesame oil, Rafhan Corn Oil and Knorr Professional Chicken Stock Powder for up to 12 hours.
After marinating dust with Knorr Professional Batter Mix.
In a wok sear off the chicken pieces in a little oil mix, keep aside for later.

Rice Preparation:

In a large pot add a little oil, onions and washed rice to the pot, toast the rice along with the onions for 2 minutes.
Add the ginger and garlic, sauté for a few minutes longer.
Dissolve Knorr Professional Chicken Soup Stock in water and add to the rice.
Cook and steam rice for about 15 minutes.

The Sauce:

Whisk all the ingredients together and keep until finishing off the dish.

Finishing off the Dish:

In a wok stir-fry the broccoli and mushrooms in a little oil mix.
Add the chicken and cooked rice.
Add the sauce and combine all the stir-fry ingredients.
Before serving mix in sesame seeds and pomegranate seeds.
Garnish with julienne ginger.