Meet the professional chefs who help make Unilever Food Solutions a source of inspiration for food businesses. Drawing from their extensive experience in professional food services, our award-winning team helps us create solutions for chefs that balance great taste, convenience and nutrition with a consistently high standard.
Apart from sharing creative ways to apply our products in a range of dish types, our chefs conduct in-kitchen skills, waste management, cost saving and storage trainings for our customers to ensure business efficiency.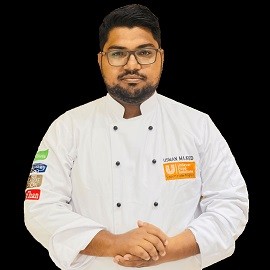 Chef Usman Majeed
Sales Chef – Central Region
Starting his career at the age of 13, Chef Usman has a total of 10 years local and international experience in culinary world. He attained his education from Pearl Continental Hotel Lahore and later graduated in the field of Food Science & Technology as well. 
At the age of 19, he became the Executive Chef of Grand Regency Hotel Mirpur & Islamabad, the youngest Executive Chef in the country! Internationally, he worked in JW Marriot & Steak House in Dubai, UAE.. Currently, he is the Cluster Chef at Butlers Chocolate Café Pakistan and Bangladesh, the youngest in 90 years within the organization.
His never-ending passion for his profession led him to win Best Restaurant Consultant Chef of the year in Annual Culinary Awards 2022. Some of his other achievements are entitlement of Best Young Chef of the year by COTHM on Chefs' Day, Best Young Media Chef 2018 by A Plus channel and Best Chef for Creative Event Idea for women cooking by Govt. of Azad Kashmir.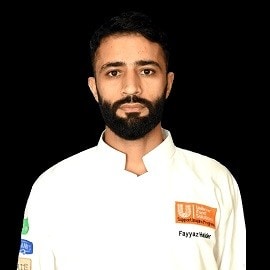 Chef Fayaz Haider
Sales Chef – North Region
Chef Fayaz did not choose culinary industry as a profession, rather he calls it as his hobby. Having an open mindset, he is open to challenge the status quo and is always out of his comfort zone to learn, unlearn and innovate.
After getting his diploma in Culinary Industry 8 years ago, Chef Fayaz started his professional journey as a Commis III at a reputable café in Islamabad and right within a year, he became Chef De Party. He did not settle for less and moved to different Hotels & Restaurants to broaden his experience till the day he became Executive Chef of Koi, Islamabad.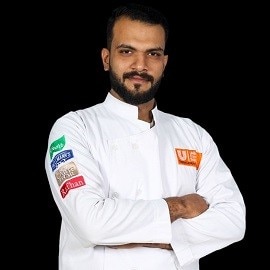 Chef Arbaz Khan
Sales Chef – South Region
Chef Arbaz is a perfectionist, believes in diner happiness and knows retention techniques due to which he has been working with multiple high-end eateries being serviced by Unilever Food Solutions. 
Holding the diploma in Culinary Arts from COTHM, Chef Arbaz has an extensive experience of 7 years in recipe innovation. He has worked not just in high-end Hotels & Restaurants domestically, but also carries the international exposure of working at Jebel Ali Hotels & Resort in Dubai, United Arab Emirates. Arbaz holds the modern cooking techniques by having the opportunity to work with international chefs, knows designing, creating, and implementing cutting edge menus.