A topping of spicy charcoal chilli's, juicy chicken, cilantro and onion all covered with cheese, and baked to bubbly goodness! Knorr Professional Barbecue Sauce and Knorr Professional Italian Tomato Base.
Sauce makes up the base sauce. Be creative and fun with pizza's.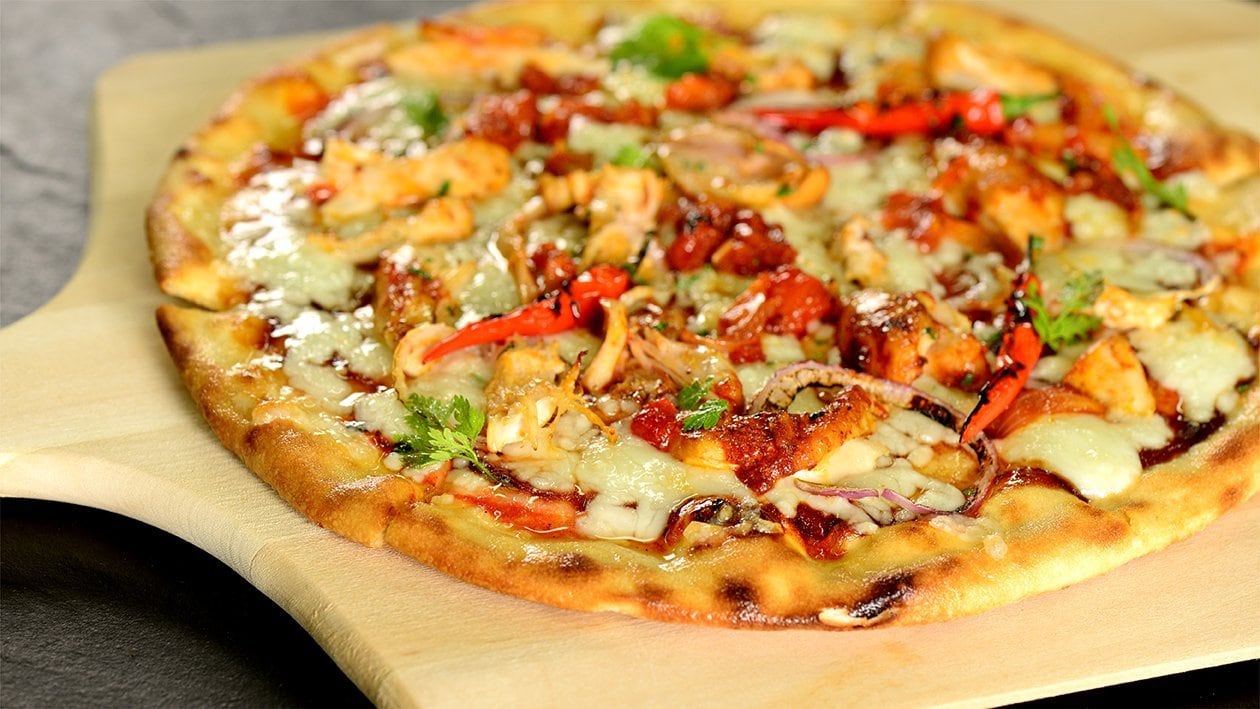 Ingredients
Making the Dough:
For Topping;
For Baking:
Mozzarella cheese

400.0 g

Fresh coriander, chopped

60.0 g
Preparation
Making the Dough:

Combine the flour, salt, and yeast in a bowl. Stir to combine. Add just enough water to make the mixture form a ball of dough with no dry flour left on the bottom of the bowl.
Knead the dough by rolling it backwards and forwards, using your hands to stretch, pull and push the dough. Keep kneading for 10 minutes, or until you have a smooth, springy, soft dough.
Place the dough in a lightly greased bowl, cover with cling film and leave in a warm place to prove for 45 minutes, or until doubled in size.

For Topping;

Marinade the chicken with Knorr Professional Crispy Coating Mix Spices, Knorr Professional Lime Seasoning and refrigerate for 1 hour.
After 1 hour take out marinated chicken. Take deep pan grease it with oil. Now put the chicken in a pan and put it in preheated oven for 15 minutes. When done keep aside.

For Baking:

Adjust the rack in your oven to its highest position and begin to preheat to 220°C. The dough at this point should be at least double in volume and very bubbly.
Sprinkle it generously with flour and then scrape it out of the bowl and onto a floured surface.
Pat the dough down into a circle about ten inches in diameter. Transfer the dough to a large (16-inch) pizza pan that has been coated with non-stick spray and stretch/press it the rest of the way out to the edges of the pan.
Spread Knorr Professional Barbecue Sauce and Knorr Professional Italian Tomato Base over the surface of the dough with the back of a spoon.
Sprinkle the chicken, onions and red chilli over top. Finally, add the shredded mozzarella.
Bake the pizza in the fully preheated 220°C oven for 12-15 minutes or until the crust is golden brown. Sprinkle with crushed chilli and coriander after baking, if desired.