Extra Crispy Chicken wrapped in Naan & Lime Curry Sauce
This recipe has some comfort food favourites, super crispy chicken strips on a bed of purple cabbage, wrapped in soft Naan bread. The dressing is a spicy curry sauce and a squeeze of lime juice to finish. View full recipe below.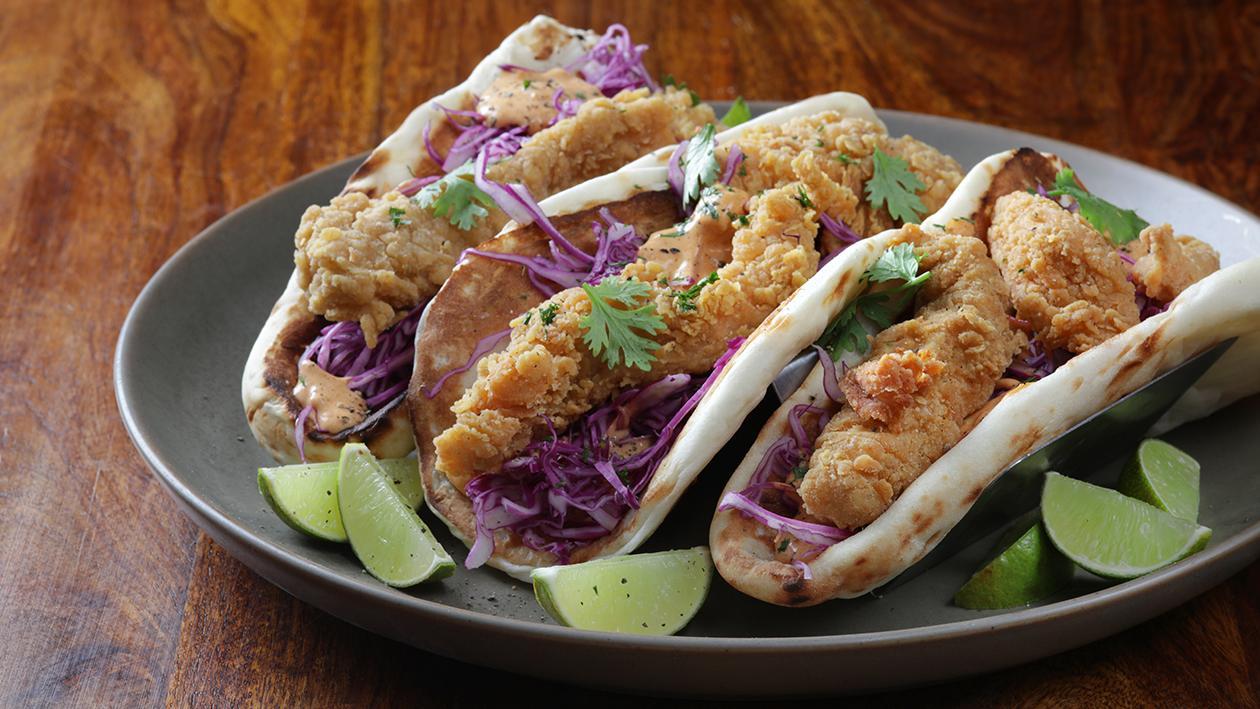 Ingredients
Curry Sauce:
Knorr Professional Tomato Puree (12x900g)

100 g
Crispy Chicken:
Knorr Spicy Marinade

100 g
Garnish:
Fresh coriander, chopped

40 g
Preparation
Curry Sauce:

Sauté onions, garlic, ginger & chilli until soft.
Add curry powder, Knorr Professional Chicken Stock Powder and cook to release flavours. Add Knorr Professional Tomato Puree and cream. Blend until smooth.
Reduce until sauce is thick.

Crispy Chicken:

Slice chicken into strips.
Marinate chicken in Knorr Professional Crispy Coating Mix Marinade for 2 hours.
Mix the Knorr Professional Crispy Coating Mix with flour.
Coat marinated chicken in dry flour and Knorr Professional Crispy Coating Mix and then dip into cold water for 10 seconds.
Coat the chicken again in the dry flour mix. Deep fry in preheated oil of 170°C.

Garnish:

Garnish with freshly picked mint, coriander, thinly sliced onion and a sprinkle of Knorr Professional Lime Seasoning.