Designed for professional chefs, check out this Baked Fish Pilau recipe: cooking instructions broken into components, full list of professional ingredients, chefs' preparation secrets. Master this recipe with products like: Rafhan Corn Oil, Knorr Professional Crispy Coating Mix, Knorr Professional Chicken Soup Stock and Knorr Professional Lime Seasoning.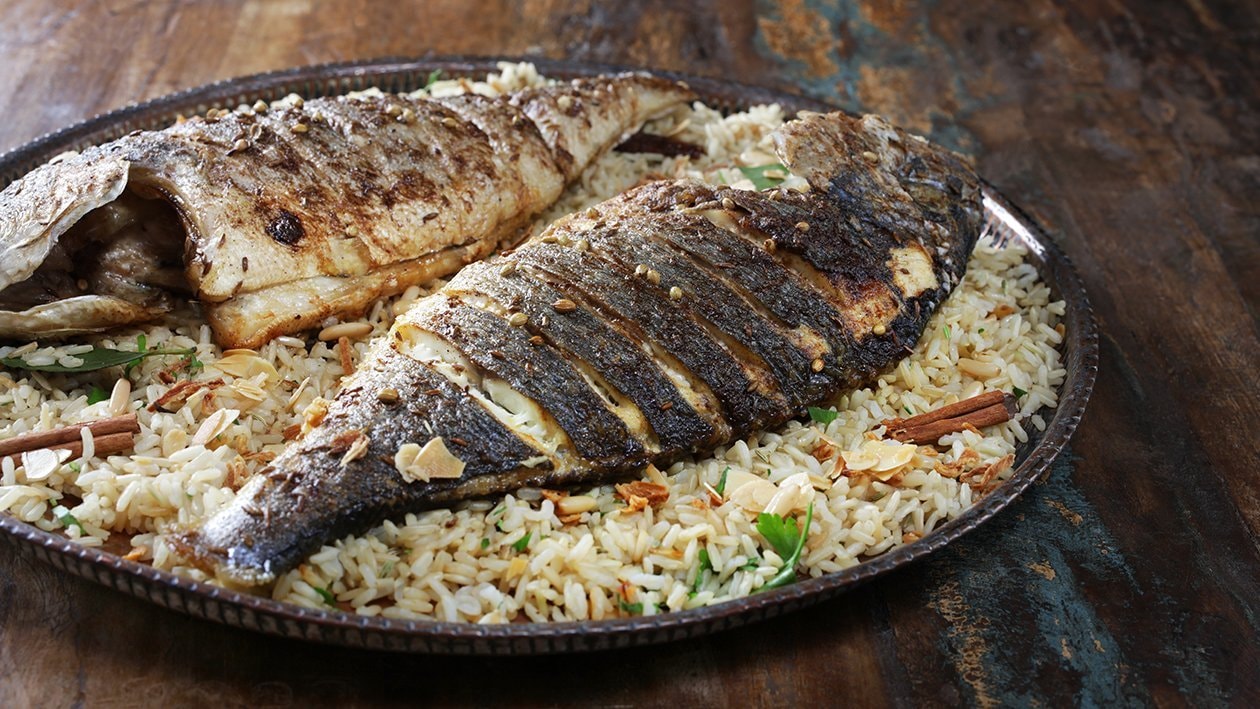 Ingredients
Fish:
Whole fish, Roar dressed and washed

4.0 kg
Rice:
Rice, basmati rinsed twice and soaked for 10 min

750.0 g
Presentation:
Almond slices toasted

10.0 g
Preparation
Fish:

Heat the oil and sauté the onions slowly till brown. Remove, drain on a paper towel and set aside.
Fry off the fish in the same oil until almost cooked through, remove from oil and season with the Knorr Professional Crispy Coating Mix, fish sauce and cumin, place in a baking tray and reserve till rice is almost cooked.


Rice:

Heat the Rafhan Corn Oil, add the rice to heat up in the oil.
Then add dried lemons and Knorr Professional Crispy Coating Mix and stir gently so as not to break up the rice.
Add Knorr Professional Chicken Soup Stock and water, bring to a boil, lower to a simmer for 10 min, then cover with a lid and steam till cooked through.


Presentation:

Preheat the oven to 180°C and finish baking the fish.
Mix the Knorr Professional Lime Seasoning with water and drizzle over the fish.

Plate the rice, top the fish and garnish with nuts, caramelized onions and parsley.